One of the Ionian islands that can be reached by car seemed like the perfect choice to avoid planes and ferries during a Covid summer. I wasn't expecting to like it so much!
About Lefkada
Lefkada (also known as Lefkas or Leukas and Leucadia) is located in the Ionian sea and at some point in history, it was under Roman occupation. It is also the only Ionian island that was under Ottoman rule for 180 years.
"It is the place where tradition demands that the lyric poet, Sappho, bring an end to her life and to her unfortunate love for the handsome Phaon" according to historical studies.
It has 26,000 inhabitants and its 70% mountainous! The mountain versus sea scenery is really magical. The island has an abundance of limestone, which is why the water is super blue. Unreal!
It's also one of the few islands in Greece that you can access by car! They've built a bridge that connects the mainland and opens-closes for boats to pass through. You don't have to get on a ferry, but you do pay tolls along the way. According to this very handy website, currently (July 2022), it's €32 for tolls (one way, cash, cheaper if you have an e-pass machine) and €65 for fuel (one way).
The island is pretty big (325 km², 35 km/22 miles from north to south and 15 km/9 miles from east to west) but the roads are relatively good.
Best Beaches in Lefkada
Agios Nikitas beach is a sandy beach with rocks all around, nice scenery and family-friendly. No sunbeds.
At Perigiali, Pasa is a nice beach, many families go there. For us (couple) it was a bit busy but if you have kids it's a good option. You need to bring your own umbrella!
Porto Katsiki is probably the most famous beach on Lekfada, a gorgeous and breathtaking place. Full of people but still worth seeing for a couple of hours. The huge whitewashed rocks and bluest waters are the typical Ionian combination, but supercharged in this place. Parking near the beach is paid (€10 for the whole day) otherwise you can park on the street further up. There's about 100 steps to get down to the beach, but it's not too bad.
The whole beach has white rocks and pebbles, you can easily get into the sea without special shoes, but some steps are more painful than others! The sea is a pleasant cold temperature, but it feels a bit weird due to the white residue from the rocks. You can't even see your feet in the water because of the blue blurry colour.
Egremni beach is similar to Porto Katsiki but due to an earthquake in 2015, the steps to the beach have been destroyed and not yet restored (UPDATE, since we first visited writing this, the steps have been restored but I hear it's a LONG way to get down to the beach and many people say it's not worth it). You can access it by sea, there are yours from Nydri but I don't think it's particularly worth the money as they take you to loads of places that are easily accessible by car.
Agiofilli beach is a bit hard to get to but it's a nice little place. The road is narrow and there's no tarmac but if you don't rush you'll be able to reach just fine. You have to park on the road or pay €5 for a parking closer to the beach. Then you have to descend by taking some stairs. The water is clearer than Porto Katsiki and the beach has white pebbles.
Mylos (or Milos) beach was the highlight of our trip in terms of beaches. Similar colours and scenery to Porto Katsiki but less people, less painful pebbles – but – a bit harder to access. The water is much clearer and you don't get this white rock residue. You can get a little boat from Agios Nikitas beach. There are loads coming and going all day (until 19:30 I think), costs €3 each way and it's about 5 minutes to reach the beach. Or you can take the more scenic route, via the mountain and have a little trek. The view when you reach the beach from the top will be worth it! It's a moderate difficulty, you absolutely need trainers or supportive shoes. It took us 15-20 minutes from the village of Agios Nikitas. We returned by boat though.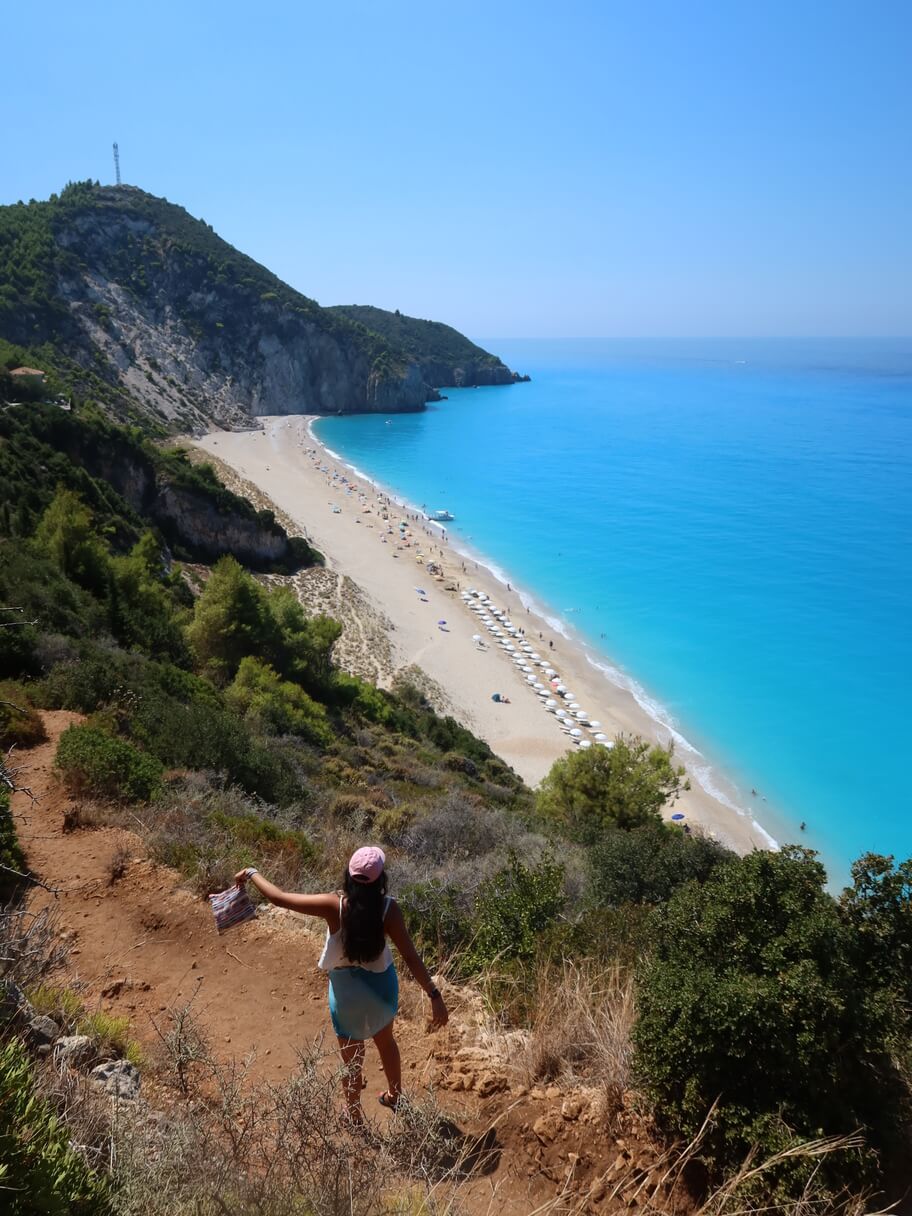 Megali Petra beach is quite magnificent thanks to the huge rocks in the sea, the name translates as "Big rock". Sandy beach, clear blue waters. You need to park your car and then descend through the trees but just for a few minutes.
Places to see in Lefkada
Waterfalls of Nidri are stunning. It was a bit crowded but it's worth the walk up to the waterfalls. It's not a difficult road or anything but ideally wear closed shoes. You can get in the water at the top of the waterfalls there's a small lake with cold water. It was quite crowded so you can't really stay in for a long while, just to get that perfect shot! The waterfall is a bit dry in the summer season, as expected.
The village of Agios Nikitas is a very scenic one on the island. Colourful tavernas lead up to the sea. Walk around and explore. We ate at a place with the best reviews, called Portari. Was good but not amazing to be honest!
The village of Kalamitsi is a cute one with great views. You can see the sunset from various spots here.
You can see the lighthouse after going to Porto Katsiki, there's not a proper viewing point but it's nice to see.
Where to eat in Lefkada
Generally, the food was okay. Maybe we didn't find the best spots but we only had the online reviews to go off of!
In Lefkada town we tried Nissi in the central square and it was really good. Nice presentation and good food. I had fresh fish which was good but not every seafood they have was fresh but frozen.
In Agios Nikitas we found the best reviews for Portoni. We had tzatziki (super garlic-y), fried aubergine (not very nice, too oily) and beef in red sauce which was good.
In Athani village we ate at Lefkatas which was really good and also a great sunset spot!
In Mikros Gyalos we ate at Zolithros which was nice! The taverna overlooks the sea. We had shrimp pasta and from what I remember it was good.
In Exanthia the most famous spot is Rachi but unfortunately we couldn't get a table as it's insanely popular, particularly at sunset. The views are amazing and I'm told the food is good too. Apparently, they only accept reservations for groups of more 6 people. We tried to wait in line but it was taking too long!
Sunset spots in Lefkada
Athoni village
Kathisma beach
Milos beach
Exanthia village
If you have an extra day…
We love renting a boat when we can to explore some more and really enjoyed our little exploration of Meganisi island. You can rent a boat for the day (or half a day) at Nydri beach, no license is required as it's small. Right next to Meganisi is a small island called Skorpios, formerly owned by Onassis. Since 2020, it belongs to Dmitry Rybolovlev, who allegedly plans to turn it into an exclusive resort.
The villas on that island are insane, some have a private deck right on the sea – very gorgeous and #inspo!
At Meganisi, you can find the famous Papanikoli Cave, situated on the west coast of the island. It was used as a hiding place for submarines during World War II. We tried to reach it but the weather wasn't great that day, especially for a small boat/engine like ours!
There are, of course, big boats that go to some of the famous places around Meganisi. Check out the routes and times here.
Enjoy your travels and let me know if you plan on visiting Lefkada soon!