As a person interested in fashion I was thrilled to discover the existence of a Fashion Museum in Bath. A little bit of fashion history and dressing up to end a weekend in Bath – see the full photo diary here.
Royal Crescent hat by Stephen Jones, S/S 12 from the collection 'Chinoiserie on Sea'
Inspired by tricorne hats of the 18th century and named after the on of Bath's most famous Georgian landmarks
Evening gown Vivienne Westwood S/S 96
Mini coat-dress by Meadham Kirchhoff S/S 12
This coat/dress has 18th century style side panniers. The rococo-inspired embroidery is from their collection 'A Wolf in Lamb's Clothing'. They created this while exploring the role of women at the beginning of the 21st century.
Dressing up was so much fun! This Victorian-style dress was actually decievingly heavy and had lots of tulle in the skirt. Am I a convincing representation of a Victorian lady?!
These gloves were so detailed and the embroidery was beautiful. The museum has a large archive of clothing and accessories, which are in the boxes behind the dresses below.
Yves Saint Laurent dress, about 1965, white silk gauze cocktail dress worn by ballerina Dame Margot Fonteyn 
Sarah Burton for Alexander McQueen, A/W 11. Silk organza with applique bodice
This was also selected as Dress of The Year for 2011 by Hamish Bowles.
Calvin Klein, 1991
Commissioned by British Vogue to celebrate the magazine's 75th anniversary  
Norman Hartnell (left), 1960 / Giorgio Armani, 1990s, worn by actress Victoria Tennant
Pierre Balmain, about 1960, worn by Lady Ward
Victor Edelstein (left), late 1980s / Christian Dior, 1960.
This design was named Henri Sauguet in tribute to the composer, who was a close friend of Dior
Madeleine Vionnet, about 1931
Paul Poiret, late 1920s, gold silk lamé / Bruce Oldfield, about 1987
Jeanne Lanvin, about 1936. Wool cloth evening cape 
Elsa Schiaparelli, about 1936
Silk evening dress decorated with pearl latticework and embroidered key motifs in pearls and gold beads. It was named 'The Keys of Saint Peter' and was supposedly inspired by paintings at the National Gallery.
Chanel, 2008
John Galliano, 1994
Cristobal Balenciaga, about 1950
Ossie Clark (left), early 1970s / Yves Saint Laurent, 1965
Last was an edited selection of Bath's Fashion Museum's 'Dress of the Year' collection, which was presented for the first time in 1963. Each year the museum asks a fashion expert to choose an outfit that they feel sums up the mood or look for that year. Some of the most famous names in international fashion have been selected over the last half century, those who have shaped fashion and set trends. It was a really interesting sum up you could say, to see how fashion and taste has changed over the years.
Christopher Kane, S/S 13
This was the Dress of the Year for 2013, as selected by blogger and journalist Susanna Lau. She said of her selection: "To me he is one of the most exciting and brilliant designers to have emerged from London Fashion Week. London has risen up in the ranks of fashion capitals, as a hotbed of aesthetically diverse creative talent and Christopher has been the roaring success story. He manages to take the most unexpected elements and make them work in collections, that then define seasons. Spring/summer 2013 saw Kane take on Frankenstein. Crystals, black gaffer tape and white lace shouldn't sit well with one another but the juxtaposition somehow come off as harmonious. To accompany the dress I have also chosen young accessories designers who have also contributed to London's rise – unconventional milliner Nasir Mazhar who has segues into street-inspired ready-to-wear and quirky shoe designer Sophia Webster."
Kane was also awarded as Designer of the Year 2013 at the British Fashion Awards.
Raf Simons for Dior, 2012
Tom Ford for Yves Saint Laurent Rive Gauche, 2004
A men's tailoring throwback, Jean Paul Gaultier, 1996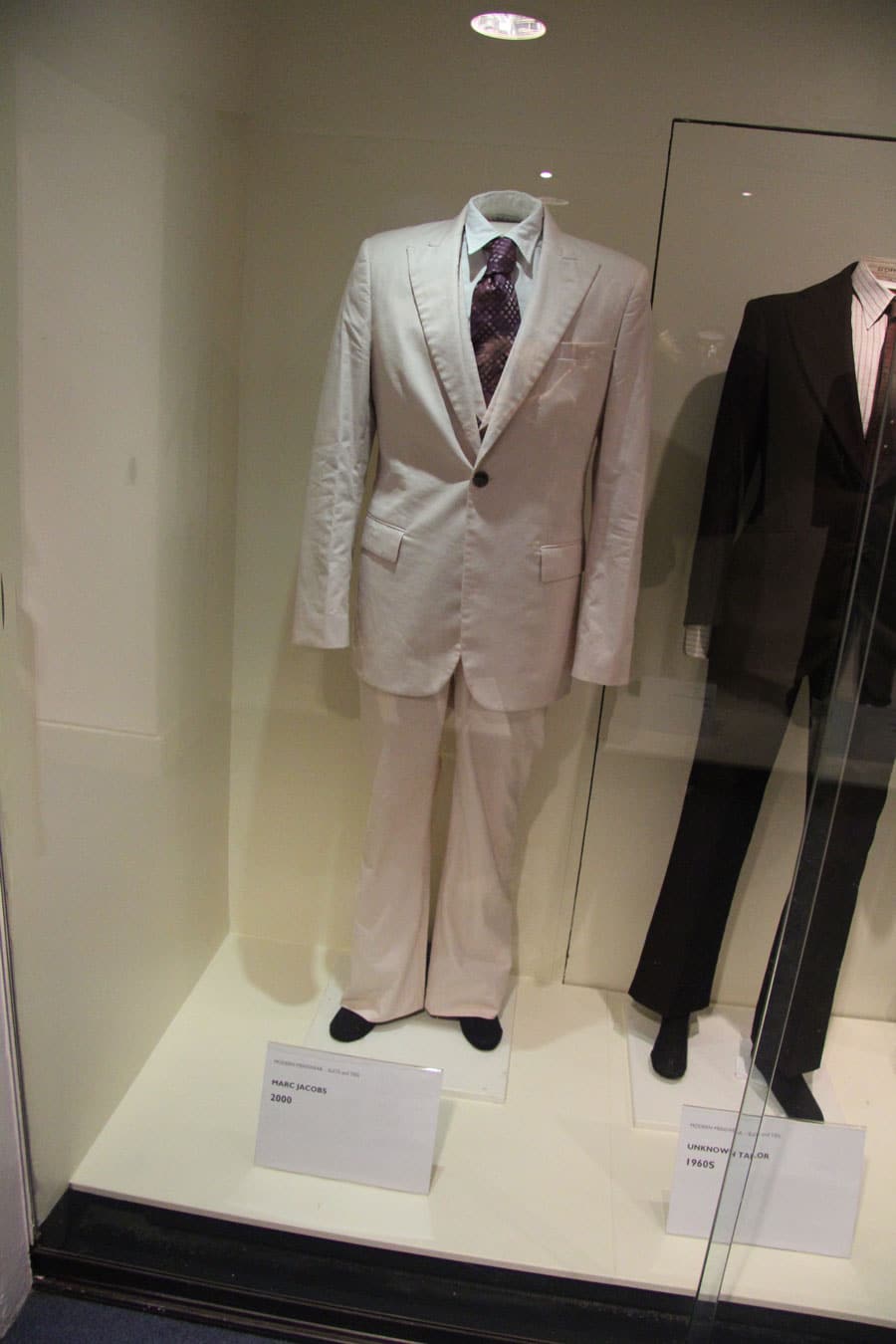 Marc Jacobs, 2000
I don't usually write/research about menswear but it was definitely interesting to see how different a tuxedo can look over the years. In my mind all that men have to do is throw on a shirt and trousers and they're done, but I know this isn't always the case. Some of the shapes looked so outdated and large. It was quite funny to see all those years next to each other.
 __________
Photo credit: Personal